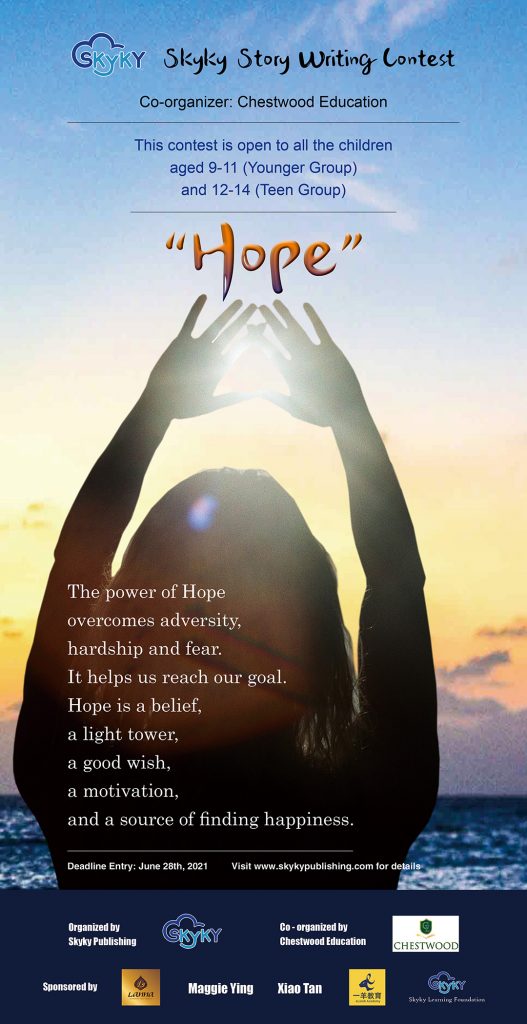 • Topic: HOPE
The power of Hope overcomes adversity, hardship and fear. It helps us reach our goal. Hope is a belief, a light tower, a good wish, a motivation, and a source of finding happiness.
Please share with us your story about "Hope". Tell us the hope for yourself, for the people you know, or for the world during these difficult times.
• Eligibility:
This contest is open to all the children aged 9-11 (Younger Group); and 12-14 (Teen Group).
• Prize:
There are three prizes per category:
First-Place Prize: $6000 value of publishing package with certificate
Second-Place Prize: $3000 value of publishing package with certificate
Third-Place Prize: $50 with certificate
Honourable Mentions: Gifts with certificates
• Decision:
Each submission will be evaluated by a selection committee. All the stories will be judged on the basis of originality, creative imagination, characterization, artistic quality, adherence to the topic, and rules established for the contest. The maximum length of submissions is 1000 words for Young Group, 3000 words for Teen Group.
Rights:
All stories remain the property of the authors. By submitting a story for this contest, the author grants permission to Skyky Publishers to publish the story, profile contest participants, and use submitted materials in any manner related to this work and children's education promotion. The author gives Skyky permission to photograph, videotape, make an audiotape of, film and/or interview and to publish said photographs, videotapes, films and/or interviews in Skyky publications/materials, including marketing and promotional materials and official websites and social media for current and future use for the purpose of carrying on the mission of Skyky Publishers.
• Notification:
Deadline Entry: June 28th, 2021
Entry fees: $15 per submission
Send all submissions and fees to: skykypublishing20@gmail.com
Awards will be announced on July 30th, 2021
• HOW to enter the contest:
Please submit one copy of the original story as a Microsoft Word file (doc or docx) with the required words per each category on any aspect of "HOPE"
• For further information or enquires contact:
skykypublishing20@gmail.com
• "Hope" Skyky Story Writing Contest Submission Form:
Please click here for downloading application form
• About the Jury:
Stephen Siu, a journalist, poet, photographer, who was in charge of Hong Kong Government's public relations in Canada as Assistant Director of the Hong Kong Economic & Trade Office. A fellowship from the World Press Institute in the United States helped him launch his journalistic career with the United Press International and Reader's Digest. He joined the Chinese Cultural Centre of Greater Toronto as its Executive Director in 2000, and currently he is the President of Yee Hong Foundation. He also serves as Chair of the Chinese Arts & Literary Contest for Youth, and Advisor of the Canada-Hong Kong Library of the University of Toronto. Mr Siu has been given many awards acknowledging his contributions to the community, including the "Chinese Canadian Legend" Award, the University of Toronto's Arbor Award and the Canadian Senate's Canada 150 medal.
Allister Thompson started his career in publishing in Toronto in 1998. He worked in-house as a senior editor for two publishers, Napoleon Publishing and Dundurn Press. Both of these companies had a special focus on children's books and young adult fiction. Since 2013 he has operated Allister Thompson Editorial, based in North Bay, Ontario. Allister edits all genres of fiction, both in adult and children's genres.
Echo Liu is an author, a publisher. Her picture books have been shelved by public libraries in Toronto, Vancouver, and in major bookstores in Toronto and Chicago. Echo passed the Early Childhood Education examinations in 2009 in China and took courses on developmental psychology in 2010 in Canada so she could enter the children's world to tell her stories. Through her stories, children will learn how to respect and appreciate their parents and others, how to love nature, how to learn about independence and forgiveness, and so much more. Echo's books also help parents to guide their children growing up, leaving happy memories from their childhood.